Home
Bio
Photo Archive
Songlist
Articles
Quotes
Recordings
Sound Bytes
Chris Murphy Bands
Links
Blues In The Schools
Schedule
"Happy Guy"
About Chris Murphy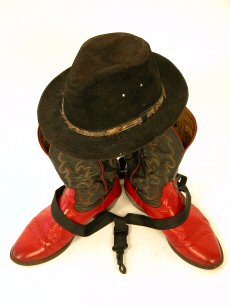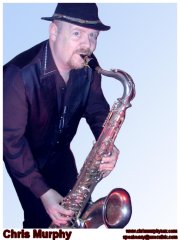 Download promo picture 8.5" X 11"
Contact: speakeasy@execulink.com
Saxophonist and Vocalist Chris Murphy ( Alto, Tenor & Baritone Saxophones, Flute , Clarinet , Hammond Organ and Vocals) is a musician and entertainer based in London Ontario, Canada. He has been fronting his own band since 1985 and he has also toured with several nationally known artists. His recordings have been played on CBC, Smooth Jazz and College Radio. He has been nominated eleven times for the Maple Blues Award. HOTWIRED , his 3rd solo CD, and his 7th recording as a bandleader was released in October 8, 2011 His music has been played on CBC , Smooth Jazz and College radio stations and he has performed in Canada, The United States and Mexico. Chris was recently descirbed by the London Free Press as "one of the busiest musicians in South-Western Ontario". He won the Jack Richardson Music Award for Blues in 2008 and 2010. He has been nominated 11 times for the Maple Blues Award for Horn Player of the Year.
Chris splits his time between fronting his own groups (see Chris Murphy bands), and touring and recording with other artists. He continues to perform occasionally with two time Juno Award Winning Guitarist, Jack de Keyzer, Alberta Adams (Detroit's Queen of the Blues), The Maple Blues Revue (Canada's 11 piece All Star Blues Ensemble). Chris is also the leader of the six piece Village Blues Band which has been performing at the Wortley Road House on Sunday afternoons since 2005.
From 1992-1998, he was the leader and front-man with the Old Chicago Blues Band, the house band at the Old Chicago Speakeasy and Grill in London, Ontario. The band performed three shows a night, five nights a week for more than six years. During that time the band released two CD's and performed with more than fifty guest vocalists, most of them from the Unted States. The band was also featured on their own TV show "Speakeasy Blues" for Rogers Cable TV.

From 1998 - 2000 he was musical director for Amercan Blues Artist Chicago Pete.

Career Highlights
2010 and 2008 Winner of the Jack Richardson Music Award for Blues


1999 - 2011 11X's in 12 years, Nominated for the Maple Blues Award for Horn Player of the Year


2003 - 2008 Touring and Recording with two time Juno Winner Jack DeKeyzer


2005 - 2011 Touring with "Chris Murphy's Blues in the Elementary Schools" a sixty minute show best described as EDUTAINMENT. The show has been performed at more than 100 elementary schools in Ontario.


2003 First recipient of the Lifetime of Blues Award from the Labatts Firehall Reunion and the London Blues Community.


Sundays since 2005 leader and frontman with the six piece Village Blues Band at the Wortley Roadhouse in London, Ontario


2004 Released 2nd CD "I'm a Happy Guy", produced by the legendary Jack Richardson (Order of Canada)


1999 debut CD, "Blowin the Horn", distributed by Festival


Member of the Maple Blues Revue since 2001 (11 piece Canadain All Star Blues Band )


Leader of the Local Horn Section for: Aretha Franklin, Natalie Cole, Temptations, Little Anthony & The Imperials, Mary Wilson & the Supremes, Grease, Fabian, Bobby Rydell and Frankie Avalon.


Bandleader and Musical Director for Chicago Pete, 1998 - 2000, more than 150 shows in Canada & U.S.A. including: the Montreal Jazz Festival and the Detroit Jazz Festival.


Leader of The Old Chicago Blues Band, five nights a week from 1992-1998. The group perfromed with more than 50 guest artists and released two CD's.


Leader of the Uptown Blooze Band, 1985-1992, the band was successful on the college circuit and released a recording "Here Come the Blues"


Co-host of radio show "The Blues Never Die", on CHRW FM 94.7 weekly 1996 - 2005.


Host and Emcee of "Speakeasy Blues" on Rogers Cable TV (19 shows) in 1996.


Gigs with: Alberta Adams (Detroit's Queen of the Blues), R.J. Spangler (Detroit), London Blues All Stars, Roxanne Potvin, Soul Sausage, Maria Auregema (Buffalo), Rod Nickson (Buffalo), Lance Anderson's Tribute to The Last Waltz, Denise Pelley, Dawn Tyler Watson, Douglas Watson, Phil Murphy Big Band


Guest spots as a vocalist include: Mojo Willie and Bluesafire in St Catherines, Liquid Lounge All Stars in Brantford, Gary Kendall Band in Toronto, Brent Minet Band in Buffalo, R J's Rhythm Rockers in Detroit, The Odyssey Blues Band in Port Dalhousie, James Anthony Band in Burlington.


Recordings with Jack DeKeyzer, Chicago Pete, McAuley, Gary Kendall, Little Bobby, James Anthony, Forest City Jazz Band, Big Gilson (Brazil). Maple Blues Revue


Appeared in the films Talk to Me and Martin and Lewis


Speaking and Musical roles in plays: Grease, Rat Pack.


Emcee at various charity events


Talent Co-Ordinator Jazz and Blues Festivals including: Quai du Vin Winery (Red, White and Blues Festival), Goderich (West Coast Blues Festival), Grand Bend, Chatham


Night Club Talent Co-Ordinator: Boomers, Downtown Kathy Brown's, Old Chicago Speakeasy and Grill
Festivals
PUERTO BLUES FESTIVAL PUERTO ESCONDITO, MEXICO

BLUES & WINE FESTIVAL ST CATHARINES 2 YEARS

BURLINGTON MUSIC FESTIVAL 2 YEARS

CANALBANK SHUFFLE IN THOROLD 3 YEARS

CARLTON PLACE JAMBOREE

CHATHAM BLUES FESTIVAL 4 YEARS

FREDERICTON HARVEST BLUES FESTIVAL 2 YEARS

GRAND BEND BLUES FESTIVAL 2 YEARS

MOUNT TREMBLANT 3 YEARS

DETROIT BLUES AND SOUL FESTIVAL

DETROIT HART PLAZA JAZZ FESTIVAL

DETROIT MONTREAX JAZZ FESTIVAL

HALIFAX ATLANTIC JAZZ FESTIVAL

HILLEBRAND WINERY BLUES FESTIVAL

JOLLIETTE BLUES SERIES

KINGSTON BLUES FESTIVAL 2 YEARS

KITCHENER BLUES BREWES & BAR B QUE 2 YEARS

LINDSAY BLUES FESTIVAL

LONDON FIREHALL REUNION LONDON 6 YEARS

LONDON JAZZ FESTIVAL 3 YEARS

MONTREAL JAZZ FESTIVAL 2 YEARS

NIAGARA FALLS BLUES IN THE PARK 2 YEARS

ORILLIA BLUES FESTIVAL 2 YEARS

OSHAWA BLUES & JAZZ FESTIVAL 2 YEARS

OTTAWA BLUES FESTIVAL 2 YEARS

PETERBOROUGH SOUNDS & LIGHTS

QUAI DU VIN REDS WHITES AND BLUES 4YEARS

REDS WHITES AND BLUES FESTIVAL LEWISTON, NEW YORK

SARNIA INDOOR BLUES FESTIVAL

SHERBROOKE EN BLUES

SMITH FALLS BLUES FESTIVAL

SPARTA JAZZ FESTIVAL

SUDBURY BLUES FESTIVAL

TORONTO DISTILLERY

TORONTO STAR BLUES FESTIVAL

TORONTO BLUES FOR PEACE FESTIVAL

TROIS REVEIRE BLUES FESTIVAL

TWISTED PINES BLUES FESTIVAL IN MIDLAND

VICTORIAVILLE BLUES FESTIVAL 2 YEARS

WASAGA BEACH BLUES FESTIVAL

PORT CREDIT BLUES SOUTH SIDE SHUFFLE FESTIVAL 7 YEARS
Go Back
Recordings
AS A PERFORMER:

NEW CD RELEASE!
CHRIS MURPHY - HOTWIRED, Speakeasy CDS, 2011
THE VILLAGE BLUES BAND , Live at the Wortley Roadhouse , Speakeasy CDS, 2008
BIG GILSON , Sentenced to Live , Brazilian Indie , 2008
JAMES ANTHONY BAND , The Saturday Sermon , Halton Blues Society , 2008
THE MAPLE BLUES REVUE, Live at Twisted Pines, Preservation Music, 2008
CHRIS MURPHY, Bitchy Woman Blues, CD single, Speakeasy CD's 2007
JACK DE KEYZER, Blues Thing, Blues Star, Indie 2007 - NOMINATED FOR A 2008 JUNO AWARD
GAIL OBEDIAH, Roots, Indie, 2006
JACK DE KEYZER, Silver Blues, Blues Star Records. 2005
CHRIS MURPHY, I'm A Happy Guy, Speakeasy CDS. 2004
GARY KENDALL, Dusty & Pearl, 47 Records. 2004
JAMES ANTHONY, Soul Shoes, GRAPEVINE, 2003
INDIE BUZZ, Canada's Best Independent Jazz Vol 1, 2001
LITTLE BOBBY & THE JUMPSTARTS, Tickets is the Glove Box, Indie, 2001
CHRIS MURPHY, Blowin' The Horn, Speakeasy CDS, Festival Distribution Inc. 1999. Press Release Blowin' The Horn
THE McAULEY BOYS, Wonderful Christmas Time!, Popular Records/ Warner Music Canada,1997
PRESERVATION BLUES REVIEW, Preservation/Fusion lll, 1997
THE OLD CHICAGO BLUES BAND, Fourth Anniversary, Speakeasy,1996
CHICAGO PETE, The Blues is Alright, Speakeasy, 1996
LONDON MUSICIANS AND ARTISTS FOR IMPOVERISHED FAMILIES,1996
THE OLD CHICAGO BLUES BAND, Third Anniversary,Speakeasy, 1995
JIMMY JACKSON, The Project, Indie, 1995
UPTOWN BLOOZE, Here Come the Blues, Indie, 1989
THE FOREST CITY JAZZ BAND, 2 45's, 1984
KEITH BARRIE, But We Can Dream, KABA Records, 1984
AS A PRODUCER:

CHRIS CHOWN, Stompin' Grounds, Speakeasy, 1997

CHICAGO PETE, The Blues is Alright, Speakeasy, 1996

JIMMY JACKSON, The Project, Indie, 1995
Go Back
MP3 Sound Bytes
Back to the top
Back to Chris Murphy homepage